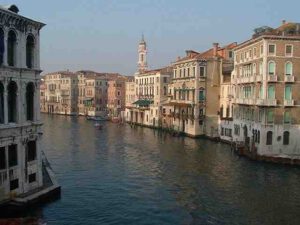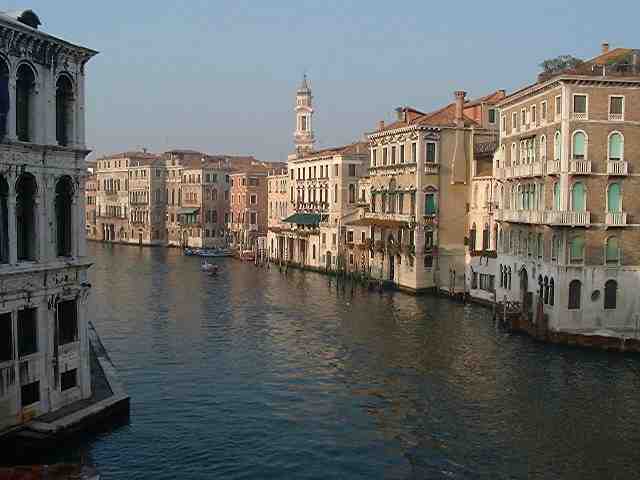 St. Mark's Square, one of the most beautiful squares in the world, in the heart of Venice.
St. Mark's Basilica, the cathedral church of the Roman Catholic Archdiocese of Venice, Byzantine architecture, 8000 square metres of mosaics.
Doge's Palace, a splendid gothic palace, was once the residence of the Doge and seat of government of the former Venetian Republic, mastrepieces by Tintoretto, Titian, Veronese and Bellini.
Grand Canal, the most important waterway in the city, 3,800 m long, 30-90 m wide, divides the city into two parts, lined with more than 170 buildings, most of which dating to 13th/18th century, four bridges.
Rialto Bridge, the most famous bridge in Venice, a stone arch bridge covered by a portico with shops.
The Accademia, a museum gallery of pre-19th century art in Venice, Giorgione, Titian, Tintoretto, Veronese, Tiepolo, Guardi and Canaletto
Scuola Grande di San Rocco, the richest and largest of the Venetian scuole, 50 paintings by Tintoretto (Allegories, Life and Passion of Christ and episodes from the Old and New Testaments).
Basilica dei Frari, one of the greatest churches in the city, Titian's Assumption, Madonna and Child's Bellini, St John the Baptist's Donatello.
Bridge of Sighs, connects the old prisons to the interrogation rooms in the Doge's Palace.
Ca' d'Oro, one of the most beautiful palazzi, on the Grand Canal, built from 1421.
Basilica of St Mary of Health, a Roman Catholic church, paintings by Titian (St. Mark Enthroned with Saints Cosmas, Damian, Sebastian and Roch, ceiling paintings…) and Tintoretto (Marriage at Cana).
Guggenheim Museum, one of the most important collections of early 20th century European and American art, Jackson Pollock, Picasso, Dalí, Magritte, Brancusi, Braque, Duchamp, Picabia, de Chirico, Mondrian, Kandinsky, Miró, Giacometti, Klee…
Lido, a long, narrow, sandy island 12 kilometres long, home to the Film Festival and the Grand Hotel des Bains.
And St Mark's Campanile, Madonna dell'Orto (paintings by Tintoretto (buried here), Conegliano and Bellini), Correr Museum (civic museum of Venice, the history and daily life of Venice across the centuries, works by Canova, Carpaccio, Bellini and Messina), Naval History Museum, Waterfront Schiavoni, San Zaccaria (paintings by Tintoretto, Trevisani, Salviati, Bellini, Balestra, Tiepolo and Van Dyck), Basilica Santi Giovanni e Paolo (25 doges funerary monuments, paintings by Bellini, Veronese), Cathedral of Santa Maria Assunta ( famous mosaics, on the island of Torcello), Church of San Giorgio Maggiore (paintings by Ricci, Tintoretto and Bassano), Ca'Rezzonico (paintings by Longhi, Guardi and Tiepolo, collections of antique furniture, fine collection of Venetian glass), Murano Island (home to the famous glass).
[hotels]
Plus d'information sur Qwant: