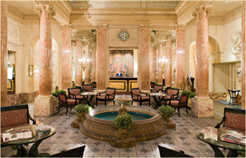 Les Armures, in a 17th-century building in the heart of Geneva's old town.
Hôtel Beau-Rivage, with panoramic views of Lake Geneva and Mont Blanc.
Domaine de Châteauvieux, 10 km east of Geneva, on the banks of the Rhone river.
Hôtel de la Cigogne, a historic building on the charming Longemalle square next to the Old Town.
Hôtel d'Alleves, built in mid-18th century, a quiet location in the centre of Geneva.
[hotels]
Plus d'information sur Qwant: