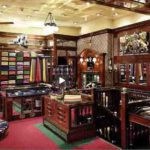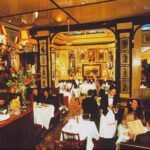 Claridge's, in the heart of Mayfair, historic Art Deco hotel, founded in 1812. Number Sixteen, a lovely luxury guesthouse composed of four early-Victorian town houses in South Kensington.
Jermyn Street, adjacent to Piccadilly, the Gentleman's market, famous for its Shirtmakers, Outfitters, Shoe & Bootmakers, Barbers, Cigar shops…
Candem Town, in northwest London, well-known for its markets selling goods of all types including fashion, lifestyle, books, food, junk/antiques and more bizarre items.
Carnaby Street, in the Soho district, and Kings Road in Chelsea, main clothes centres of Sixties London.
Fortnum & Mason, at 181 Piccadilly, recognised internationally for its high quality goods and as an iconic British symbol, also the location of a celebrated tea shop.
Fish and Chips from the Fish Bone Restaurant on Cleveland Street, fresh fish and crispy chips.
Manze's Pie and Mash shop, 87 Tower Bridge Road, since 1902, freshly baked pies for a very affordable price.
Some famous pubs: Ship Tavern in Holborn, The Grenadier in Knightsbridge, The Nag's Head in Belgravia
Rules in Covent Garden, 35 Maiden Lane, the oldest restaurant in London, founded in 1798, serves traditional British food, specialising in classic game cookery, oysters, pies and puddings.
Porters in Covent Garden, 17 Henrietta Street, popular English dishes such as Steak and Kidney Pudding, Fisherman's Pie, great value for money and very child friendly.
Harrods on Brompton Road in Knightsbridge, the seasonal Christmas department and the Food Hall are world famous.
Hundreds of half price and discount theatre tickets are available on the day of performance and up to a week in advance at Leicester Square.
Plus d'information sur Qwant: