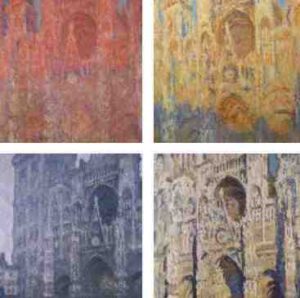 Monet painted the Rouen Cathedral series, more than thirty, made in 1892 and 1893, many views of the same subject under different lighting conditions.
Where to see them ?
Musée d'Orsay, Paris, France
National Gallery of Art, Washington, D.C., USA
National Museum of Serbia, Belgrade, Serbia
Musée Marmottan, Paris, France
Folkwang Museum, Essen, Germany
Pola Museum of Art, Hakone, Japan
Beyeler Museum, Riehen, Switzerland
Clark Art Institute, Williamstown, USA
Musée des Beaux-Arts de Rouen, France
More information on the web...