Discount flights worldwide / Flights + hotels
Budget hotels Rome
Budget hotels Italy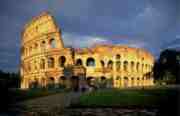 Or Roman Coliseum, originally the Flavian Amphitheatre. Located in the center of Rome. The largest structure left to us by Roman antiquity. Created by the architects of the Flavian Emperors, Vespasian and Titus. Started between 70 and 72 AD and completed in 80 AD. Capable of seating 50,000 spectators. Was used for gladiatorial contests and public spectacles (battles, animal hunts, executions, dramas based on Classical mythology).

Budget hotels near Colosseum ? Best price guaranteed
More information on the web...