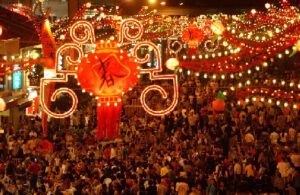 The Chinese New Year gets determined by the chinese new year calendar and therefore it is sometimes called the Lunar New Year. In 2011, the Chinese Lunar Year Festival would start from 3rd of February. The festival traditionally begins on the first day and ends with Lantern Festival which is on the 15th day. Chinese New Year is celebrated in countries and territories with significant Chinese populations, such as Mainland China, Hong Kong, Indonesia, Macau, Malaysia, Philippines, Singapore, Taiwan, Vietnam, and also in Chinatowns elsewhere.
Recommanded hotels worldwide ? Best price guaranteed

Flight + hotel ?
More information on the web...